The Barcelona-based company is the first Western European start-up to take part in the Health Wildcatters acceleration program (Dallas, US)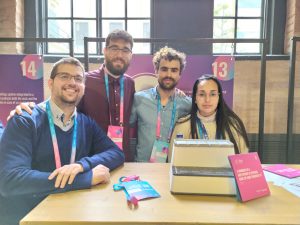 Loop DX's team (photo provided by Loop Dx).
Time matters when treating sepsis, a condition that according to a recent report by the World Health Organization (WHO) kills 11 million people each year, many of them children, and it disables millions more. Sepsis occurs in response to an infection, and when it is not recognized early and managed promptly, it can lead to septic shock, multiple organ failure and death.
Traditional lab tests that diagnose the condition can take a few hours or even longer, that is why Loop Diagnostics is working on a new diagnosis test for sepsis that aims to be faster than other tools available in the market. Loop DX focuses on identifying immune activity biomarkers in patients' bloodstream through biochemical testing.
The current rapid tests for sepsis diagnose use damage-related biomarkers, which start being detectable/present in blood at least six hours after the bacteria infected/moved into the blood flow. Loop DX, on the other hand, is focused on identifying immune activity biomarkers that start being detectable just one hour after the bacteria infects the blood. By using this new methodology and biomarkers, the window of detection begins five hours early. As sepsis is a time-critical condition, a fast, accurate diagnosis will allow antibiotic treatment to start earlier, improve patient outcomes and recovery times, save lives and reduce health costs.
The Barcelona-based start-up is developing a new lateral flow platform for the diagnosis of sepsis at the point of care that relies on in vitro cellular immunoassay to monitor cells. This technique aims to provide healthcare workers with a better understanding of how to treat patients and to offer a faster diagnosis than pathogen identification, according to Enrique Hernández, CEO and cofounder of Loop DX with Eduard Guerrero. The company claims it can provide a relatively quick result with the SeptiLoop test they are developing. This test relies on a blood draw and no additional lab work is needed to produce a result.
The start-up has recently been accepted to be part of the Dallas-based seed accelerator Health Wildcatters, making it the first Western European start-up to be accepted by the US program. While Health Wildcatters cohort members typically go to Texas, a pivot to a virtual model has allowed the accelerator to bring in companies from around the world. «We are excited to be part of Loop DX's story, developing a breakthrough technology in early sepsis diagnosis, that will have the potential to save many lives», said Dr. Hubert Zajicek, CEO of Health Wildcatters.
Hernández explains that the idea for the company developed out of his participation in d-Health Barcelona, a postgraduate program for innovators and entrepreneurs, where he witnessed first-hand the need for a rapid test for triaging potential sepsis patients. «We focused on sepsis because it's difficult to get results. Microbiology tests and growing a culture takes a long time, and these methods don't have the sensitivity to identify the source of infections,» he said.
And what differentiates Loop DX's approach to other tests that are also trying to optimize sepsis management and diagnosis? According to Hernández, the start-up is centered on identifying the cause of a patient's bloodstream infection by monitoring immune response, as opposed to trying to identify the specific pathogen and then selecting therapies based on that information. The markers used have been identified together with collaborators at Bellvitge University Hospital in Barcelona.
Being part of a US-based accelerator program will provide the start-up with an opportunity to explore the US market. While participation in the program is currently virtual due to the ongoing Covid-19 pandemic, Loop has established a subsidiary in Texas to attract investors and ultimately lead US clinical trials.
The company, who is currently based out of StartUB! (an incubator at the University of Barcelona), is part of the CIMTI's (Center of the Integration of Medicine and Innovation Technologies in Catalonia) Impact Program and has received multiple awards such as HeadStart of EIT Health, Cross4Health and Producte in the past. It has also been recently awarded with the Digi-B-Cube grant through the EU Horizon 2020 Framework Program. Loop DX is currently participating in the STARTHEALTH (Tecnocampus) program and is about to take part in the IQS Next Tech acceleration program.