In this training the projects received theoretical training and were able to put into practice the necessary bases to prepare and execute an investment round in the MedTech sector.
This training has been aimed at projects promoted by the Impact Program and CIMTI alumni, which aim to raise private capital in the next 6 – 8 months.
The training was given by Amadís Pagès, CEO of Moirai Biodesign.
Program June 15, 2023 12:00 p.m. to 2:00 p.m.: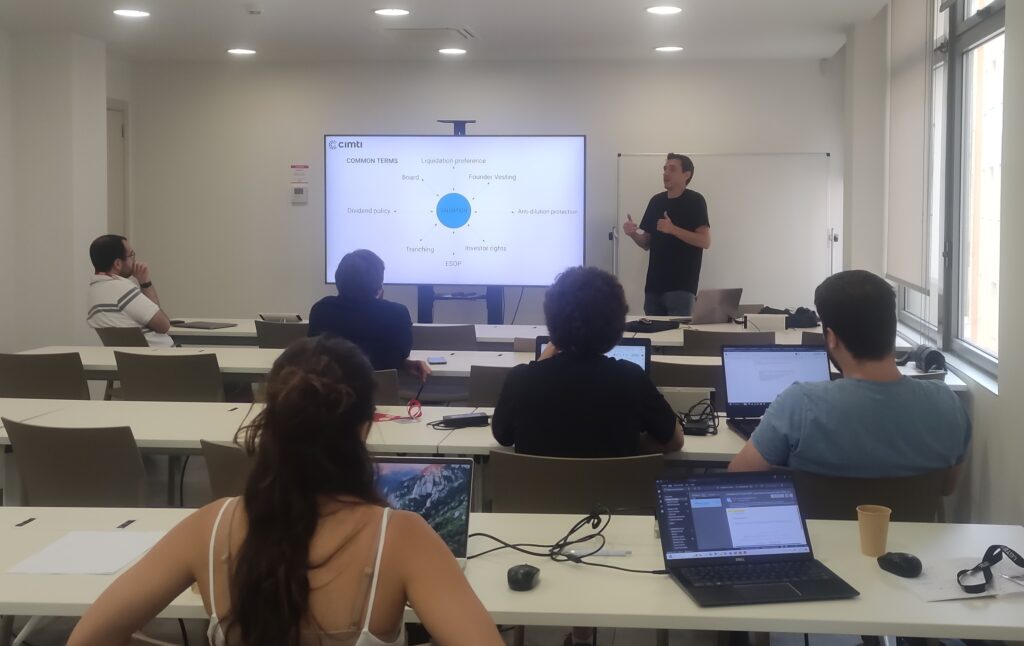 In this module we have studied which milestones are relevant for different types of investors and which exit strategies we can offer them. At a practical level, a roadmap and an investment proposal have been drawn up.
In this module we have studied which forms of financing are appropriate for each stage of development, the types of investors we can approach and the expected dilutions.
Program June 20, 2023 12:00 p.m. to 2:00 p.m.:
In this module we have studied how to prepare a pitch and how it should evolve in the different phases of the company, as well as the importance of staging and the possible questions that investors can ask. On a practical level, an elevator pitch has been prepared and a simulation has been made.
In this module we have studied the methods for valuing a company and how to use the valuation as a starting point for negotiation. We have also studied what awaits us when negotiating with investors and what are the stages of this negotiation.
WHAT ARE THE KEY ELEMENTS TO PREPARE AN INVESTOR MEETING AND BE SUCCESSFUL?
Among all the basic points to take into account, we select four elements that will increase the efficiency of the process of raising capital.
📢Work in detail on the pitch-deck, synthesizing the most relevant aspects of the investment proposal.
📢 Practice the pitch also taking into account non-verbal language.
📢 Know and work on the whole range of terms to be negotiated.
📢 Work carefully on the arguments to defend the value of the company in front of an investor.
From CIMTI, apart from offering specific training for our projects, we also provide support and advice in the field of financing, market and business, clinical, regulatory, technology and marketing and communication. You can see the full catalog HERE