The aim of the training was to help the entrepreneurs who lead projects promoted by CIMTI to perform a short presentation of their solution in order to reach the key stakeholders and achieve their objectives.
Program:
12:00h – Introduction by Carles Fernandez, director of VitaminE: 'Fundamental characteristics of an efficient pitch'.
12.30pm – Dynamic workshop where each participant presents their project and is recorded so that they can then watch the video and receive feedback from the communication expert, Carles Fernandez.
The main tips for building a more efficient pitch given by Carles Fernandez are:
📢 Think carefully which communication tool you will use. Each has a purpose and it is not recommended to 'recycle' the presentation from one format to another.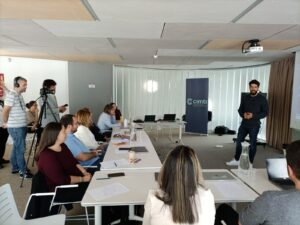 📢 If we use visual support, show only key ideas without arguments, we want maximum attention from the interlocutor towards us.
📢 Avoid providing documentation before the presentation. It distracts the audience and takes away their attention.
📢 Explain 1 or 2 key ideas. We humans have a limited capacity of paying attention.
📢 Adapt the message to the audience we are addressing and convince them that it is worth continuing to listen.
📢 Avoid subjective data. Transfer objective data
📢 Show figures in graphs. If they are more visual, they are more understandable.
📢 Look at the interlocutors to see their reactions and be able to change strategy if we notice that they are not listening.
📢 Question whether the logical order of the speech is appropriate for the audience we are addressing or is it worth changing.
📢 The focus of the speech is the solution provided by the project, not the development process.
📢 Shield the message at the beginning and end of your presentation, these are the two moments where you will have 100% of the interlocutor's attention.
From CIMTI, apart from offering specific training for our projects, we also provide support and advice in financing, market and business, clinical, regulatory, technology and marketing and communication. You can see the full catalog HERE.